Today was our Halloween Party! We had a simple party with some costumes, Halloween books, a Halloween song, a Halloween craft, and Trick or Treating. Some of the students were a little suprised by the costumes, but they all seemed to have a lot of fun. H. was particularly excited; he told everyone that he was a "cat!" When I was preparing for Circle Time, some of the children saw our Halloween book. After they saw it they asked for "more book." So at their request we read two Halloween books today.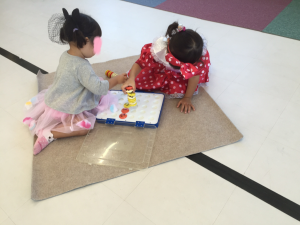 Little S. was very interested in Big S. today. As Big S. was working on her activity, Little S. came next to her to watch. Big S. noticed this and invited Little S. to play with her. Big S. showed Little S. what to do and they played with each other for quite some time. They are becoming friends!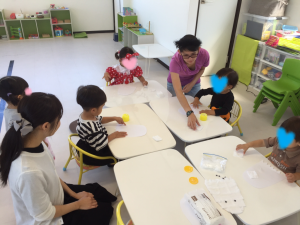 For our Halloween Party, we made a special Halloween craft. The students made cotton puff ghosts. When I told them we were making "ghosts," I. pointed to the ghost decoration on the wall and repeated, "ghost." Even though the two ghosts looked very different, he was able to recognize that they were the same thing.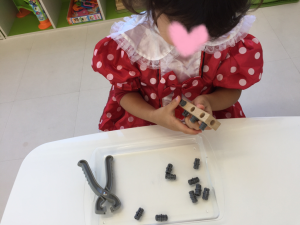 The students are becoming more and more interested in using tools. They've been practicing cutting a lot, and they've recently started trying an activity with pliers. H., K., and Big S. all worked very hard putting the plastic pegs in and pulling them out again with the pliers. Their fine motor skills are improving a lot.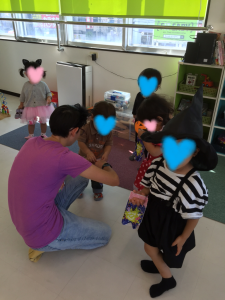 At the end of the day we had fun Trick or Treating! K. wasn't interested in wearing his witch hat all day, but when it was time for Trick or Treating he was very excited to put it on. I. did not want to wear a costume, but he was very excited to try Trick or Treating. The students all practiced saying, "Trick or Treat!" They enjoyed getting their Halloween treats and putting them into their bags. Some students had so much fun that they tried to ask for more!
We had a fun Halloween Party! The students all adjusted very well to the change in routine and were able to enjoy a taste of American culture! Happy Halloween!