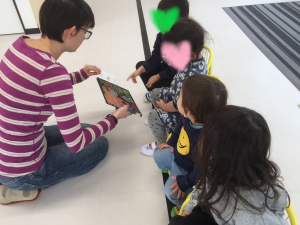 Today was a little quieter with only four kids, but we were still busy! The children are all getting better at recognizing letters. Today, I. pointed to a letter on his backback and correctly said, "B!" They are all changing so much.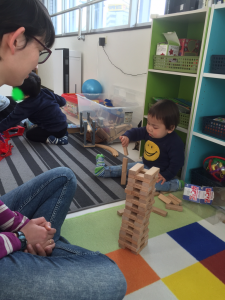 It has been exciting watching the children improve their fine motor skills. I. has gotten much better at stacking and balancing blocks and is very excited to make small towers by himself. The older S. has been getting better maneuvering puzzle pieces when the puzzle gets messed up.
The younger two students are really enjoying reading books. Today, S. took out this book and very excitedly said, "Dinosaurs!" It is important to learn to enjoy books when we are young so we can continue learning when we are older.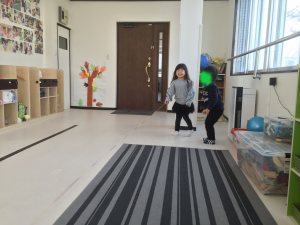 They older students are getting much more confident asking each other to play together. On their own they took out the rubber band chain and asked to play together. They have grown so much!
It is such a joy seeing how the students grow every day. How will they change tomorrow?