It'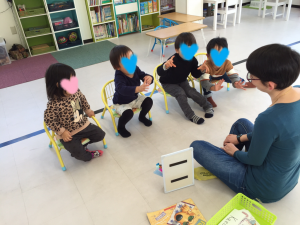 s been two weeks since we've had our Tuesday class, and all the students were very excited to see each other. At Circle Time I was greeted by some very enthusiastic dinosaurs! The dinosaurs had great pronunciation, clearly saying "Hello!" and "How ar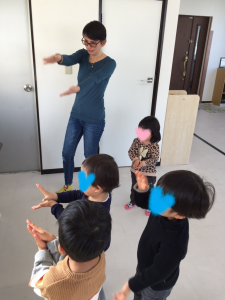 e you?" while roaring. It snowed a little this morning, and the students were very interested in it. When he arrived, H. told us, "Snowing!" During Circle Time, when I asked them about the weather, the students discussed whether it was still snowing or not. Even Little S. was excited to say there was snow. For our song we sang everyone's favorite, Baby Shark. The students often ask me to sing Baby Shark to them, so they are very familiar with the lyrics and the dance. After practicing the words so many times, they can pronounce "baby shark" very well now.
All the students were very focused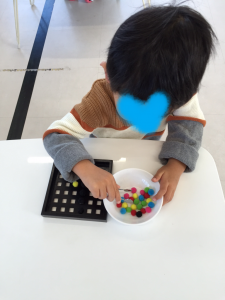 during Table Time today. It took them a few minutes to settle down, but once they did they worked on their individual activities for a long time. They chose some activities that they've done a lot, and they also tried some new activities. Little S. chose her favorite hole punching. Because she practices it a lot, she is able to use it very well. Her pronunciation of "Bag please!" is very clear. Today I taught her a n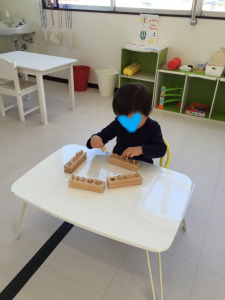 ew step: emplying the hole puncher into the trash can. H. wanted to try a new activity so Miss Akiko showed him how to arrange the wooden pieces. He listened carefully and was able to do the activity properly. When one of the pieces was in the wrong spot, he recognized the problem and asked for help. Table Time is a great chance for the students to grow a lot!
For today's craft we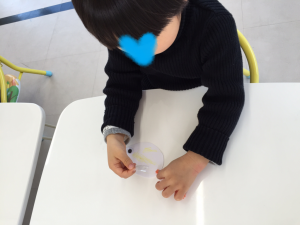 made mice! We used a variety of materials such as yarn, tape, and glue. The students were able to see that there are steps to the craft; we have to color before we can use glue, etc. Little S. loves coloring, so she's been practicing saying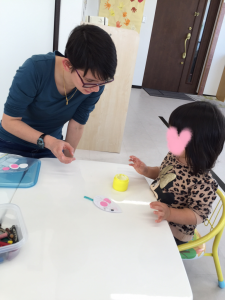 , "Crayons please!" The boys were interested in the different colors of the mice tails and they were discussing their colors. Recently they've been asking for less and less help during Craft Time. They are able to understand the craft and decide on their own how they want theirs to look. Because of this, they were able to create mice with a lot of personality.
As us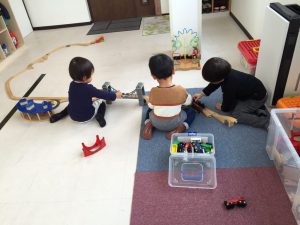 ual, H., K., and O. played together a lot today. They spent a long time creating a huge train track. Little S. was very curious and watched them all closely. H. noticed her and told her that she could play with them. She decided not to play trains with them, but later on all four of them played with the blocks together. It was raining a little after lunch so we weren't able to go to the park, but that did not stop the students from having a lot of fun together inside. They ran together, spun in circles, and held hands. They've grown a lot!
It was another busy day! Everyone is growing up so quickly, we are suprised by the new things they can do each week.