It's already October! Soon it w
ill be Halloween! Miss F. was here to help us today and some of the students practiced saying her name. The students worked very hard during Circle Time today. They were very enthusiastic about counting the days of school and have gotten much faster at recognizing each other's names. Little S. wasn't ready to join yet, but she watched the older students.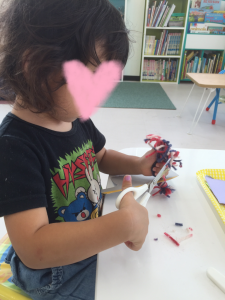 Big S. has been practicing her cutting recently. Today she practiced cutting yarn. She was very focused. After she finished, she cleaned up after herself by sweeping with a broom. The students are becoming much more responsible and work very hard to clean up after themselves.
Lit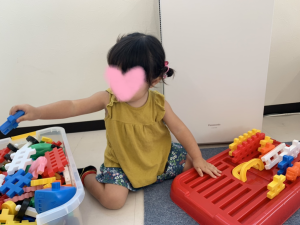 tle S. was able to participate more today! She enjoyed several activities and even played with Miss F. Each day she grows more confident!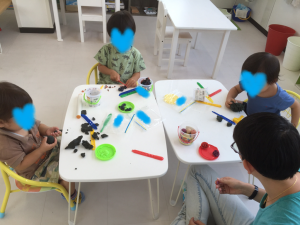 For the first time in a while, the students played with play dough! They have gotten better at making requests. Now, when they ask me to make a ball, they remember to say, "Ball please!" instead of just, "Ball!" They have also improved at describing what they are making. H. rolled out his play dough and then told me, "Long!" I. and H. asked each other for the rolling pin and they shared very nicely.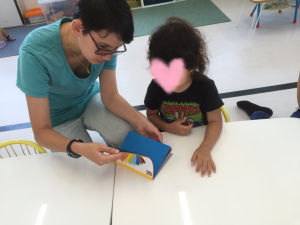 Today was our craft day. As always, when I took out the tables, they asked me, "Lunch!?" However, they were not disappointed when I told them it was Craft Time and quickly came to the table. We made little faces because last week they were all asking for googly eyes.
During lunchtime, Little S. fell asleep. Big S. told the other students, "Shhh!" All the older students were talking about her sleeping; they are very interested in her! Unfortunately, because she was sleeping, Little S. could not come with us to the park. However, the other students had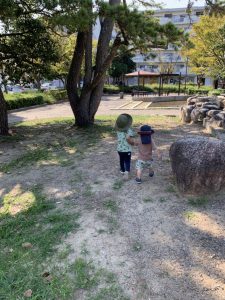 a wonderful time. As the season is changing, they were able to find many leaves. Big S. wanted to know where Little S. was. After I told her that she was still at the school, Big S. asked me, "Little S, coming?" They can make more and more short sentences now! K. and I. had a great time playing together. They enjoyed holding hands, and ran around the park together.
It was quite a busy day, but we had lots of fun! It is so exciting seeing the students develop many new social skills!