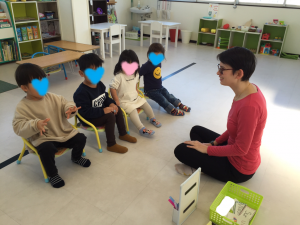 We had another great day of preschool today! We had a different group of students than usual, so it was a good chance for the children to play with many people. During Circle Time we had some dinosaurs; some of the students said hello by saying, "Rawr!" It's great that they can relax and enjoy Circle Time. They've also gotten better at asking, "How are you?" with clear pronunciation and a loud voice. For now they still need prompting to ask, but soon they'll be able to do it on their own.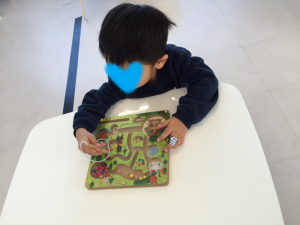 Everyone focused well during Table Time today. After finishing one activity, they went back on their own to choose another. Little S. practiced with stickers and hole punching, and she's gotten much better at coming to Miss Akiko and me to ask, "Help me please." I. spent a long time practicing using keys with our Anpanman toy. He carefully checked each door to make sure it was empty and he made sure to lock each one
when he was finished. O. tried many activities, and spent a long time moving the balls with the magnet. He hasn't had a chance to try everything yet, so he is very curious. It's been a little while, but K. tried using the scissors again today. He chose to cut the brush instead of the lion. Cutting straight, thin lines is tricky, but he made sure to carefully cut along each black line. Everyone is getting better at paying attention to detail!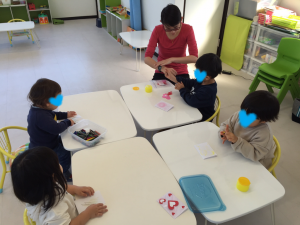 It's Valentine's Day next Friday, so we made Valentine's cards today. First, they colored their cards with crayons. As usual, we practiced saying, "Crayons please." Little S. and I. were very good at passing the crayons to each other. After they finished coloring, they glued on some hearts. K. noticed and pointed out that everyone got one big heart and many smaller hearts. They've gotten quite good at pushing up their sleeves before using the glue; some of them remember to do it even before I remember!
We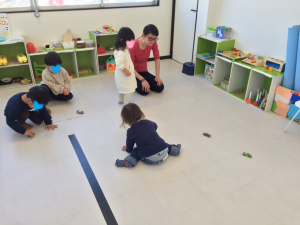 were all able to play with cars together today. The three older boys were playing and Little S. was watching them very closely. I suggested that she try it too, and she decided to pick out her own car. K., I., and O. have lots of experience playing with cars here, so they were able to roll them halfway across the room. It was a great chance for Little S. to copy and learn from her older classmates.
We ha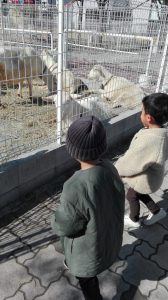 d great weather today so we were able to go to the park today! It's been a while since we've been able to go on a Tuesday so the students were very excited. Today they decided to spend most of their time with the goats. K. and O. wanted to feed them, so they found some sticks. After I told them that goats don't eat sticks, they asked me what they do eat. I showed them the hay and they were very excited to gather the pieces that had fallen outside the pen. When the goats ignored the hay, the boys guessed that they were full, or maybe sleepy. It was a good opportunity for them to interact with animals.
We have a holiday next Tuesday, so see you again in two weeks!