We had another busy day of preschool today! H., K., and O. all enjoyed Circle Time. They were very interested in the storybook about an art museum and had fun looking at all the pictures. They also had a blast with the castanets during our song!
We did a fun cr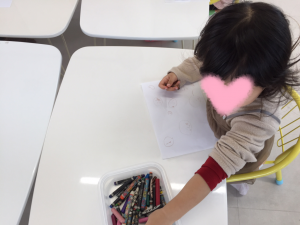 aft today! When Little S. noticed me setting up the tables, she quickly went and got chairs by herself; she really loves doing crafts! We made a snowy scene with some trees. The students used all sorts of different colors for the sky: some drew a gorgeous sunset with pink and orange and some used y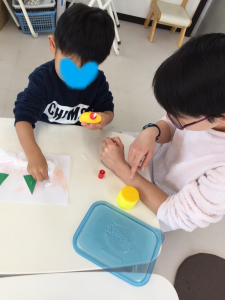 ellow to draw the sun. Big S. put a lot of effort into drawing lots of snowmen in her scene. She happily told us, "Snowman!" while she was drawing. To put on the sequin snowflakes, we had to use the craft glue. It was O.'s first time using it during Craft Time. He carefully practiced turning the glue upside down and squeezing it out. After being shown how to do it, he was able to do it all by himself!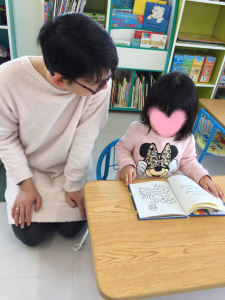 Little S. has gotten much more comfortable doing things with me instead of Miss Akiko recently. She is getting used to English. Today we read a book together. It was a little difficult for her to take it from the bookshelf, but she kept trying until she was able to get it! Little S. turned the pages by herself while I read out loud. Reading is a great way to learn new things so we are glad she is becoming interested in reading in English.
After lunc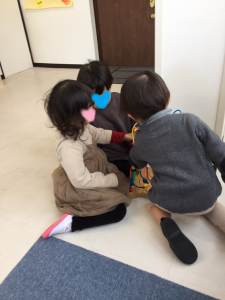 h it drizzled a little so unfortunately we were not able to go to the park. However, that did not stop the kids from having fun with each other. Big S., K., H., and O. had a lot of fun running around with each other. They would run, get tired and take a short break, then start running again. What great exercise!
The stud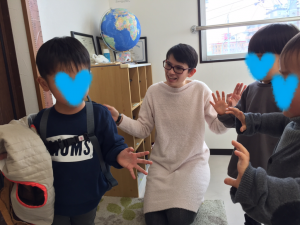 ents are very good at singing the Bye Bye Song now. When a student is leaving, they'll all come to the door and wave their hands. When Little S. was putting on her shoes, O. told H. and K. that it was time to sing the Bye Bye Song soon. He's learned that we always sing the Bye Bye Song once they finish putting on their shoes!
It's great to see our students becoming more and more confident in themselves. Let's keep working hard!