Today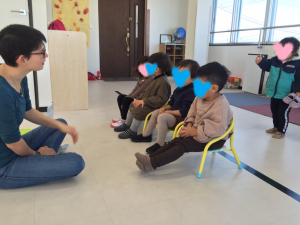 was our first Tuesday after the Winter Break! Some of the students forgot our morning routine, but they all adjusted very quickly. They were excited for Circle Time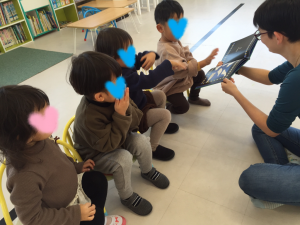 and even Little S. gave a big thumbs up when I asked, "How are you?" January was a tough word for them to pronounce, but they had fun saying it anyways. We read a book about counting animals, which the students were very excited to do, but they were even more excited to pretend to eat the animals! It was very exciting for them and we are glad to see the students interested in books.
T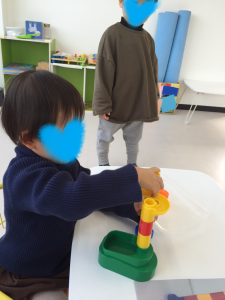 oday we introduced a new activity to the preschoolers, the marble chute! H. was eager to try it and listened to Miss Akiko's instructions. K. thought it looked very interesting, and watched H. while he worked. As soon as H. finished, K. asked to try as well. Big S. also wanted to try, and she was able to wait patiently until after lunch. They can wait their turn we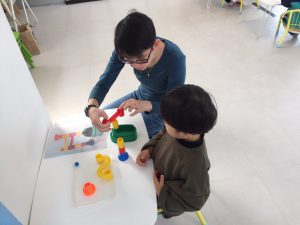 ll! The students have been practicing with the blocks for a long time, so the marble chute is a good step up for them. It's smaller, and the pieces are harder to fit together, but they were very focused on their work. Soon we'll have to add more pieces so they can make larger marble chutes!
We made a penguin craft today! O. quickly recognized that the penguins were inside eggs, and he was very excited about it. The students enjoyed making rainbow penguins and practiced saying, "Crayons please!" They have much better control when using the glue now, and understand that there are steps to completing the craft.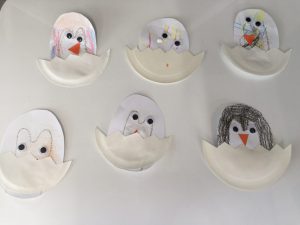 I think their penguins are very cute, don't you?
Even though it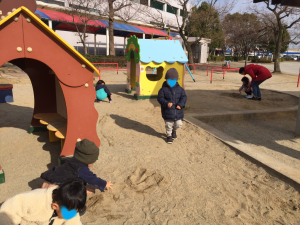 was cloudy, we had a lot of fun at the park. Miss Akiko reminded everyone to walk carefully and to not let go of each others' hands, and the students were able to walk responsibly. They usually loves the slides, but today they were mostly interested in the sandbox.
Before we went home today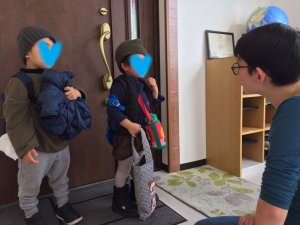 , H., K., and I sang some songs. They were able to sing along with me for many of the songs. I was especially impressed when they sang the Months of the Year Song, as they remembered the names of all the months. Music is a great way to learn new things!
Let's enjoy the rest of January together!