We had another fun and exciting day at preschool! The older kids were able to answer the question, "How are you?" with very clear voices and were able to ask me the question as well! They have fun choosing between "I'm fine" and "Not fine." We have been counting the days of school and today was day #48! We are excited for Friday which marks the 50th day of school!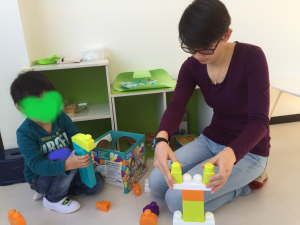 The children enjoyed playing with two kinds of blocks today and practiced play fighting. They were very imaginative using the pieces to make toy weapons.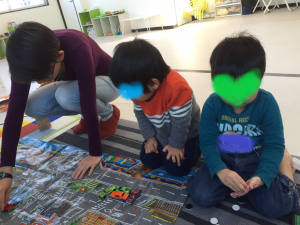 H. loves cars and always wants to play with the car mat. He loves practicing his greetings with the cars and has his cars tell mine "Hello" and "Goodbye." T. challenged Miss Akiko to a game of Reversi end even helped her put away her game pieces!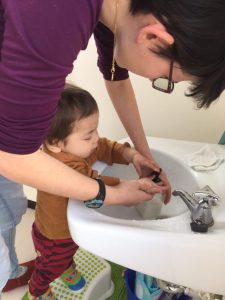 I. and younger S. are practicing washing their hands. They can push the soap onto their hands and rub their palms together. Next step: scrubbing the backs of their hands on their own!
And with that, another full day of school is done! We'll work hard tomorrow too!