Today was the first day of the school week after our three-day weekend. The students were a little tired after the long break and we had a quiet day with just two students.
Our students are growing up quickly! Each day when it is time for Circle Time, they quickly get their chairs on their own. Right now they are learning to put their chairs in front of the line. It is still a little tricky but they are starting to get the hang of it. We finished the last letter of the alphabet, Z, today. As always, the students enjoyed determining if the letter is in their name or not. They have been pointing the the letters in books and on signs more and more!
We read two books during Circle Time today and both students were able to listen the entire time! They enjoyed looking at the different animals in the books and were able to answer many questions. They can answer simple questions like, "What is this?" and opinion questions like, "Do you like dogs?" They were able to learn the word 'puppy' today, instead of just using dog.
Today, we spent a long time walking on the line. We normally only walk a few times, but today I. kept saying, "One more time!" H. agreed with him so we walked down the line again and again. They have become very good at forming a straight line and waiting for their turn. It is still a little difficult for them to know when to start walking, but they are working very hard.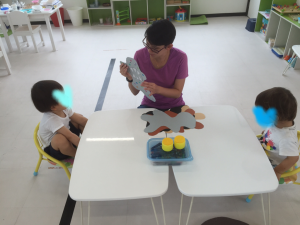 Tuesday is our craft day and we made brain eating amoebas! On their own, both students were able to place the eyes above where they drew the mouths. They can recognize faces in art well now. They each decided to put two teeth on their amoebas.
The students were tired after the long weekend but we were able to do many things today! We'll have another busy day tomorrow!